| | | |
| --- | --- | --- |
| " | I heard about you. Look, I'm not like all the others on Olympus. The power of the hunt helps keep me company, so, maybe it'll help you, too. | " |
| | ~ Artemis | |
Artemis is the Olympian Goddess of the hunt and the wilderness. She offers boons to Zagreus which give his abilities the chance to deal Critical damage. In addition, she also offers boons that improve Cast abilities.
While the damage bonus offered on her boons is lower compared to other Gods', the Critical hits they offer deal three times the damage of a normal ability, granting the best overall DPS gain. Artemis boons, when properly combined with other boons, have the potential to deal tremendous damage. In addition, her Cast related boons increase your total ammo or add a projectile, further enabling a powerful ranged tool.
Her signature Status Curse is Marked, which increases the chance of dealing a critical hit to the afflicted enemy, consuming the Curse and reapplying it to a nearby target. This essentially allows you to snowball critical hits in a crowd. This increase in chance will stack with her boons that offer Critical hit chance.
Affinity
If given Nectar, Artemis will give you the Adamant Arrowhead.
Artemis' affinity gauge maxes out at 7 hearts, requiring the gifting of 6 Nectar and 1 Ambrosia.
Favor
Artemis' favor requires seeing multiple strings of dialogue in which she talks about her partner, Callisto. The gauge is unlocked when Artemis says that she feels like she can be herself with Zagreus.
Codex entry

'...The goddess of the hunt has always held my highest admiration. Unlike so many of her brethren on Olympus, she seems unconcerned with being praised at every turn by mortals, and instead she dutifully holds her station as a master of the natural world. Even Lord Hades may hold some respect for her, I think. Certainly her power is responsible for no small quantity of shades in this domain. Lord Hades and the Lady Artemis have certain traits in common, I suppose; each solitary and committed to their work. If only my Lord Hades understood that someone such as Artemis could be someone to confide in, rather than resent along with all the others on Olympus.'
Quotes
For quotes and dialogue regarding Artemis, please refer to Artemis/Quotes.
Mechanics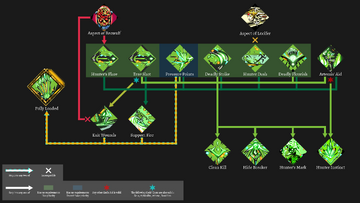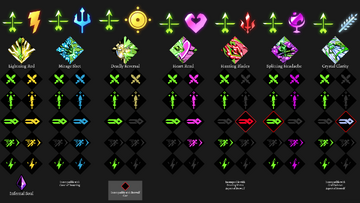 Some of Artemis' boons give the chance for an ability to do Critical damage. This is a modifier that causes foes to take more damage than usual. A critical hit will deal 300% damage to an enemy, without any other modifiers.
Additionally, all projectiles created by Artemis boons (her Cast Boon, True Shot, as well as Artemis' Aid projectiles, Mirage Shot projectiles, and Support Fire projectiles) will bypass held shields on Exalted Greatshields and Theseus.
Boons
Boon
Description
Rarity
Notes
Prerequisites


Deadly Strike
Your Attack is stronger, with

+15%

chance to deal Critical damage.

Common:

Rare

:

Epic

:

Heroic

:

Tier 1
None


Deadly Flourish
Your Special is stronger, with

+20%

chance to deal Critical Damage.

Common:

Rare

:

Epic

:

Heroic

:

Tier 1
None


True Shot
Your Cast seeks foes, with a 10% chance to deal Critical damage.

Common:

Rare

:

Epic

:

Heroic

:

Tier 1

Unblockable by shield-bearing foes
Cannot be combined with Aspect of Beowulf

None


Hunter's Flare
Your Cast damages foes around you, with a 10% Critical chance.

Common:

Rare

:

Epic

:

Heroic

:

Tier 1
Unique to Aspect of Beowulf


Hunter Dash
Your Dash-Strike deals more damage.

Common:

Rare

:

Epic

:

Heroic

:

Tier 1

Cannot be combined with Aspect of Lucifer

None


Artemis' Aid
Your Call fires a seeking arrow with +35% Critical chance.

Common:

Rare

:

Epic

:

Heroic

:

Tier 1

Unblockable by shield-bearing foes.
Costs 1/5th of the God Gauge per use (while other Gods' Aids cost 1/4th)
Max Gauge Bonus - Arrows Fired :

10

None


Pressure Points
Any damage you deal has a chance to be Critical.

Common:

Bonus Critical Chance:

+2%

Rare

:

Bonus Critical Chance:

+3%

Epic

:

Bonus Critical Chance:

+4%

Heroic

:

Bonus Critical Chance:

+5%

Tier 1
None


Exit Wounds
Your foes take damage when your stuck in them is dislodged.

Common:

Rare

:

Epic

:

Heroic

:

Tier 2

Cannot be combined with Aspect of Beowulf
Cannot be combined with Crystal Beam
Cannot be combined with Slicing Shot
Cannot be combined with Trippy Shot

Crush Shot, True Shot, Phalanx Shot, Flood Shot, or Electric Shot


Hide Breaker
Your Critical effects deal even more damage to Armor.

Common:

Critical Damage Bonus vs. Armor:

200%

Rare

:

Epic

:

Heroic

:

Tier 2
Deadly Strike, Deadly Flourish, True Shot, Artemis' Aid, or Pressure Points


Clean Kill
Your Critical effects deal even more damage.

Common:

Rare

:

Epic

:

Heroic

:

Tier 2
Deadly Strike, Deadly Flourish, True Shot, Artemis' Aid, or Pressure Points


Hunter Instinct
Your God Gauge charges faster when you deal Critical damage.

Common:

Faster Gauge Gain on Critical:

+0.25%

Rare

:

Faster Gauge Gain on Critical:

+0.3%

Epic

:

Faster Gauge Gain on Critical:

+0.35%

Heroic

:

Faster Gauge Gain on Critical:

+0.4%

Tier 2
Deadly Strike, Deadly Flourish, True Shot, or Pressure Points


Hunter's Mark
After you deal Critical damage to a foe, a foe near it is Marked.

Common:

Rare

:

Epic

:

Heroic

:

Tier 2

Range: 1200
'Marked' effect expires after taking Critical damage.

Deadly Strike, Deadly Flourish, True Shot, Artemis' Aid, or Pressure Points


Support Fire
After you Cast, or hit with an Attack or Special, fire a seeking arrow.

Common:

Rare

:

Epic

:

Heroic

:

Tier 2
Deadly Strike, Deadly Flourish, True Shot, Hunter Dash, Artemis' Aid, or Pressure Points


Fully Loaded
Gain extra for your Cast.

Legendary

Tier 3
Requires two of three:

Exit Wounds, Pressure Points, or Support Fire


Heart Rend
Your Critical effects deal even more damage to Weak foes.

Bonus Critical Damage vs. Weak:

+150%

Duo

(Aphrodite)
One of each:

Artemis: Deadly Strike, Deadly Flourish, or True Shot / Hunter's Flare
Aphrodite: Heartbreak Strike, Heartbreak Flourish, Crush Shot / Passion Flare, or Passion Dash


Hunting Blades
Your Cast creates a faster Blade Rift that seeks the nearest foe.

Duo

(Ares)



Cannot be combined with Freezing Vortex.
Cannot be combined with Aspect of Beowulf.

One of each:

Artemis: Deadly Strike, Deadly Flourish, Hunter Dash, or Artemis' Aid
Ares: Slicing Shot / Slicing Flare


Deadly Reversal
After you Deflect, briefly gain +20% chance to deal Critical damage.

Critical Duration:

2 Sec.

Duo

(Athena)
One of each:

Artemis: Deadly Strike, Deadly Flourish, True Shot / Hunter's Flare, or Artemis' Aid,
Athena: Divine Strike or Divine Flourish


Crystal Clarity
Your Cast is stronger and tracks foes more effectively.

Duo

(Demeter)



Cannot be combined with Cold Embrace
Cannot be combined with Aspect of Beowulf

One of each:

Artemis: Deadly Strike, Deadly Flourish, Hunter Dash, or Artemis' Aid
Demeter: Crystal Beam


Splitting Headache
Hangover-afflicted foes are more likely to take Critical damage.

Bonus Critical Chance per Hangover Stack:

+1.5%

Duo

(Dionysus)
One of each:

Artemis: Deadly Strike, Deadly Flourish, True Shot, or Artemis' Aid
Dionysus: Drunken Strike, Drunken Flourish, Drunken Dash, or Dionysus' Aid


Mirage Shot
Your Cast fires a second projectile, though it has reduced damage.

Secondary Shot Damage:

30%

Duo

(Poseidon)



Cannot be combined with Curse of Drowning

One of each:

Artemis: Deadly Strike, Deadly Flourish, True Shot / Hunter's Flare, or Artemis' Aid
Poseidon: Tempest Strike, Tempest Flourish, Flood Shot, Tidal Dash, or Poseidon's Aid


Lightning Rod
Your collectible strike nearby foes with lightning every 1 Sec.

Duo

(Zeus)



Requires the Infernal Soul Mirror Ability
Lowers the range at which you can pick up

One of each:

Artemis: Deadly Strike, Deadly Flourish, Hunter Dash, True Shot / Hunter's Flare, or Artemis' Aid
Zeus: Lightning Strike, Thunder Flourish, Electric Shot / Thunder Flare, Thunder Dash, or Zeus' Aid
Gallery
Additional notes
For additional information on Artemis that does not pertain to Hades, see Wikipedia's article: Artemis