The Karate Kid Wiki is a community site that anyone can contribute to. Discover, share and add your knowledge!
Trending articles
Popular categories
View full main page
Welcome to the
Karate Kid Wiki
The wiki for the Karate Kid franchise — including all
movies, media, and the hit Netflix series Cobra Kai.
The Karate Kid Wiki is a collaborative database dedicated to documenting the heroics of legendary icon Daniel LaRusso and everyone's favorite mentor, Mr. Miyagi. This wiki includes detailed information regarding the original four films, spin-offs, additional merchandise, video games, locations, and more! Our goal is to have the most up-to-date and accurate information regarding The Karate Kid Universe.
In 2019, The Karate Kid Universe expanded with the YouTube Premium/Netflix original series, Cobra Kai. The series takes place 30 years after the events of the 1984 All Valley Karate Tournament, with the continuation of the inescapable conflict between Daniel LaRusso and Johnny Lawrence. Season 4 premiers on Netflix on December 31, 2021.

"It's ok lose to opponent! Must not lose to fear!" — Mr. Miyagi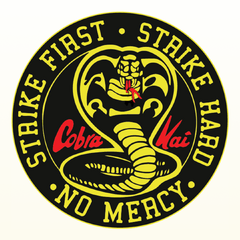 Set thirty four years after events of the 1984 All Valley Karate Tournament, a down-and-out Johnny Lawrence seeks redemption by reopening the infamous Cobra Kai dojo. The move reignites his rivalry with a now successful Daniel LaRusso, who has been struggling to maintain balance in his life. The two men must address past demons and present the only they know how: through Karate. Cobra Kai also introduces a new generation of Karate Kids, including Daniel's daughter Samantha LaRusso, Johnny's son Robby Keene, and the new kid Miguel Diaz.
---

---


Daniel (Ralph Macchio) moves to Southern California with his mother, Lucille (Randee Heller), but quickly finds himself the target of a group of bullies who study karate at the Cobra Kai dojo. Fortunately, Daniel befriends Mr. Miyagi (Noriyuki "Pat" Morita), an unassuming repairman who just happens to be a martial arts master himself. Miyagi takes Daniel under his wing, training him in a more compassionate form of karate and preparing him to compete against the brutal Cobra Kai.
---

---