This article is about the location. You may be looking for the game with the same name.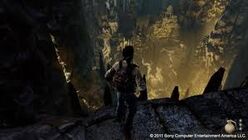 The Golden Abyss is a location in the Uncharted game with the same name.
Overview
The Golden Abyss, also known by the name 'the Lost City of Gold', is located in Quivira. The Golden Abyss serves as the objective location of Uncharted: Golden Abyss. The Golden Abyss hosts a large amount of gold which main antagonists Roberto Guerro and Jason Dante seek.
The Golden Abyss only appears in "A Sacrifice of Blood". Nathan Drake speaks of the Abyss in the same. He also fights and defeat Dante inside the Abyss, leaving him to die there.
On the walls are veins of gold and on the floor are many gold coins. Unfortunately due to the rich Uranium deposits in the mountains every piece of gold is radioactive.
At the center of the Golden Abyss lies the Throne of Gold. It was were Friar Marcos de Niza murdered Esteban The Moor.
Appearances